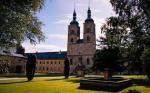 We announced in the first call for papers that Logica 2022 was going to take place, as usual, in the Hejnice monastery. However, due to the humanitarian crisis caused by the Russian invasion of Ukraine, we had to change our plans. Hejnice monastery now provides a shelter to 80 Ukrainian refugees and it seems that this situation will not change in the following months. Nevertheless, we have found a suitable alternative venue, The Premonstratensian Monastery of Teplá in West Bohemia. There are no changes concerning the dates of the conference and the submission process.

Invited speakers: Steve Awodey, Alena Vencovská, and Yde Venema
The conference program will include a special session on Logic and information. Invited speakers at this session are Marta Bílková, Alessandra Palmigiano, and Heinrich Wansing.
Program Committee: Francesco Berto, Marta Bílková, Georg Brun, Ivano Ciardelli, Christian Fermüller, Radek Honzík, Gary Kemp, Ansten Klev, Vojtěch Kolman, Ondrej Majer, Carles Noguera, Hitoshi Omori, Alessandra Palmigiano, Jaroslav Peregrin, Adam Přenosil, Vít Punčochář (co-chair), Greg Restall, Olivier Roy, Igor Sedlár (co-chair), Sebastian Sequoiah-Grayson, Vítězslav Švejdar, Vladimír Svoboda, Andrew Tedder, Alena Vencovská, Heinrich Wansing.
The program is here. The book of abstracts can be downloaded here.
Conference fee: The fee for the symposium is 500 EUR for participants and 350 EUR for accompanying persons. The fee covers full board and lodging at Hejnice Monastery during the symposium, the conference coach from Prague to Hejnice and back, the banquet, and (for participants) a copy of the volume containing contributions to the symposium.
Please register here.
You may pay the registration fee for participants here and for accompanying persons here.(Please select payment in EUR!)
All correspondence concerning the symposium should be directed to
This email address is being protected from spambots. You need JavaScript enabled to view it.
or to:
Vít Punčochář & Igor Sedlár
Co-chairs of the Organizing Committee of Logica 2022
Institute of Philosophy
Academy of Sciences of the Czech Republic
Jilská 1, 110 00 Praha 1, Czech Republic